Christmas 2013
Spending the holidays in the US was a last-minute decision. I bought my tickets soon after I realized that I was going to have an almost 2-week break from the office.  I was able to score cheap tickets from Saudia Air through Expedia; never mind that I had to endure two 33-hour flights with 8 and 11 hour layovers in Saudi. (I think that entire experience with Saudia Air deserves an entire blog entry altogether which I'll post in the future. Or maybe not. Hehe). Traveling is always something to look forward to, no matter what the conditions.
It was my first time to spend the holidays and experience winter in the U.S. Actually, it was my first time to spend Christmas outside of the house I grew up and lived in for the past 30+ years. I'm not the type who would get sentimental over the smallest things, but a few days before my flight, I was taking photos of all the Christmas installations/decorations and anything, really, that reminded me of Christmas in the metro (and which, I'm sure, I'll miss when I get to US):
Decor at Eastwood Mall: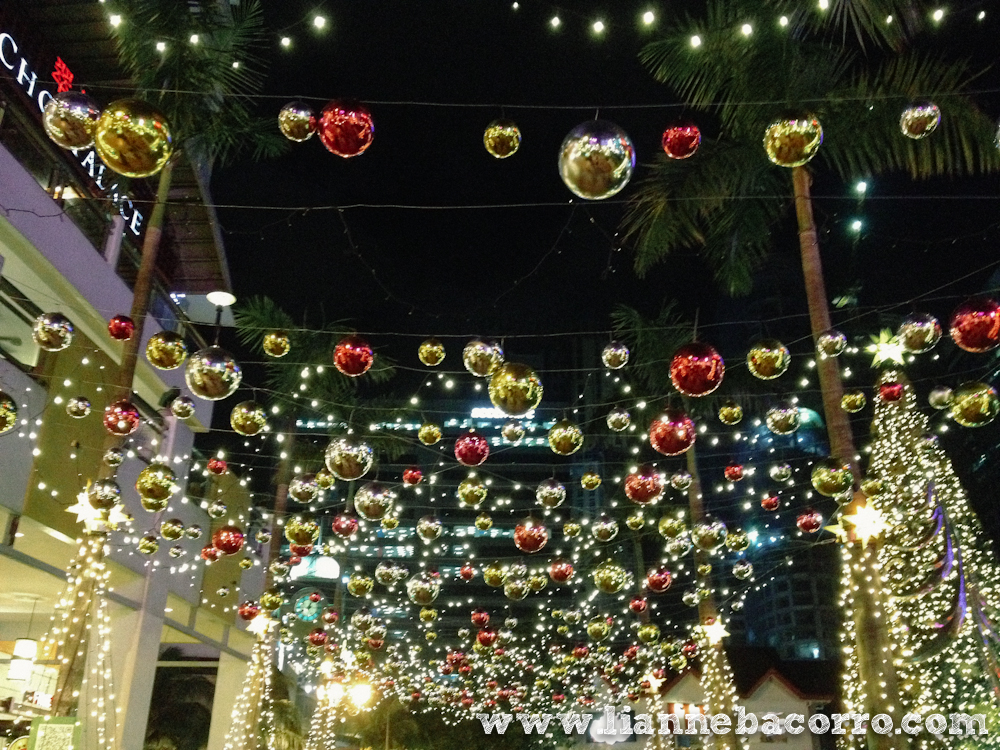 This was taken at the same spot last July (during the rainy season):
Polar bears, Santa Claus, and "snow" at Shangri-la Mall. Hehehe:
Our Christmas tree at home: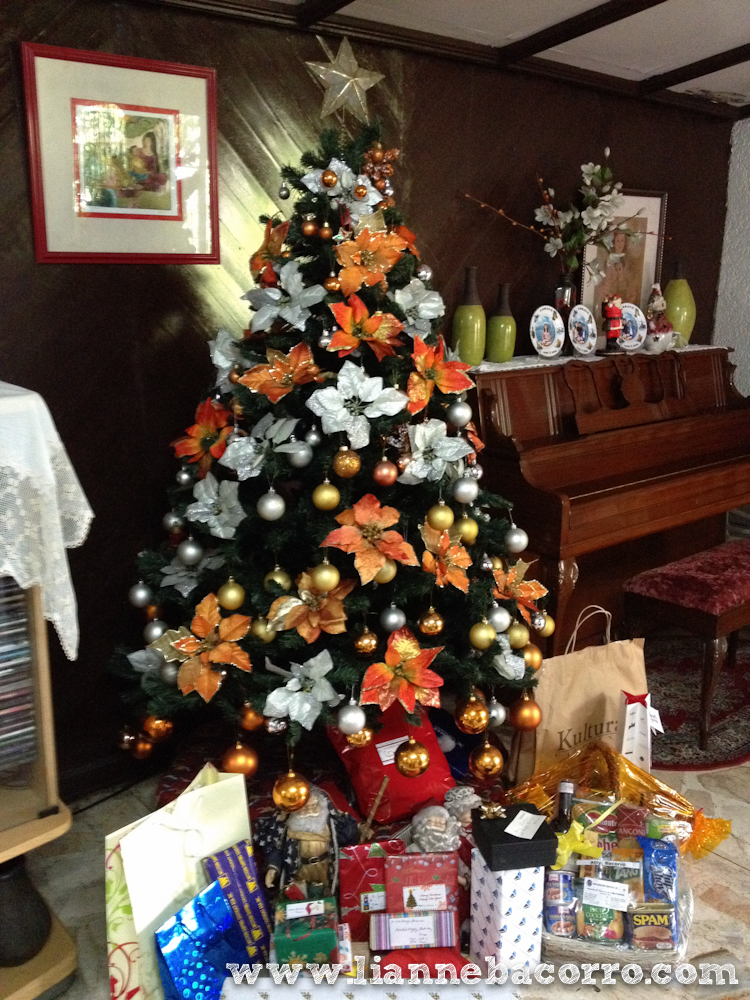 Embotido and ham on a Christmas-themed tablecloth:
Daing and danggit on a Christmas-themed tablecloth: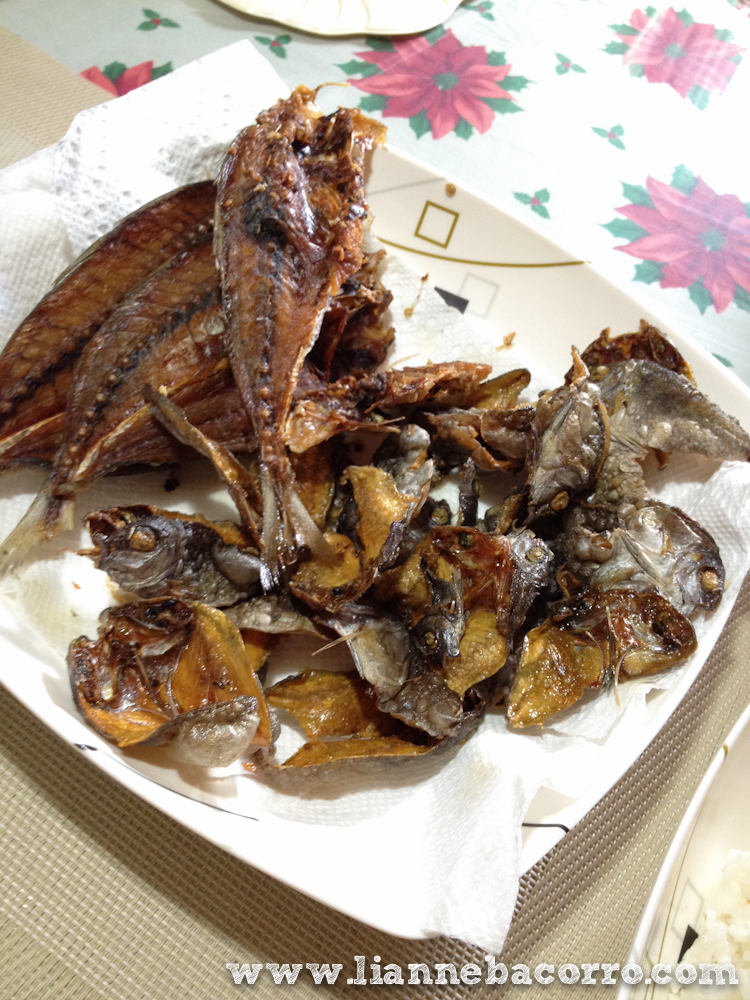 When I finally arrived at the Dulles Airport (after a 3-hour delay due to strong winds), a large crowd was waiting expectantly for their loved ones to arrive. There was an outpour of emotions as the stream of passengers met their loved ones. I witnessed a whole lot of hugging. It reminded of the first and last scenes of the movie, "Love, Actually". I wasn't use to such busyness in the airport. Then I saw my brother who looked like he had been waiting at the airport for the past three hours. (Sorry bro. Hehe)
After we had dinner of Vietnamese pho (which was perfect for the cold weather), I had NY cheesecake and a large cup of hot chocolate at home. My brother's house looked perfectly Christmassy with the fireplace, Christmas tree, and elegant decor. During my stay, I spent a lot of time just sitting on the couch in the living room and admiring the view while keeping myself warm in front of the fireplace (or electric heater).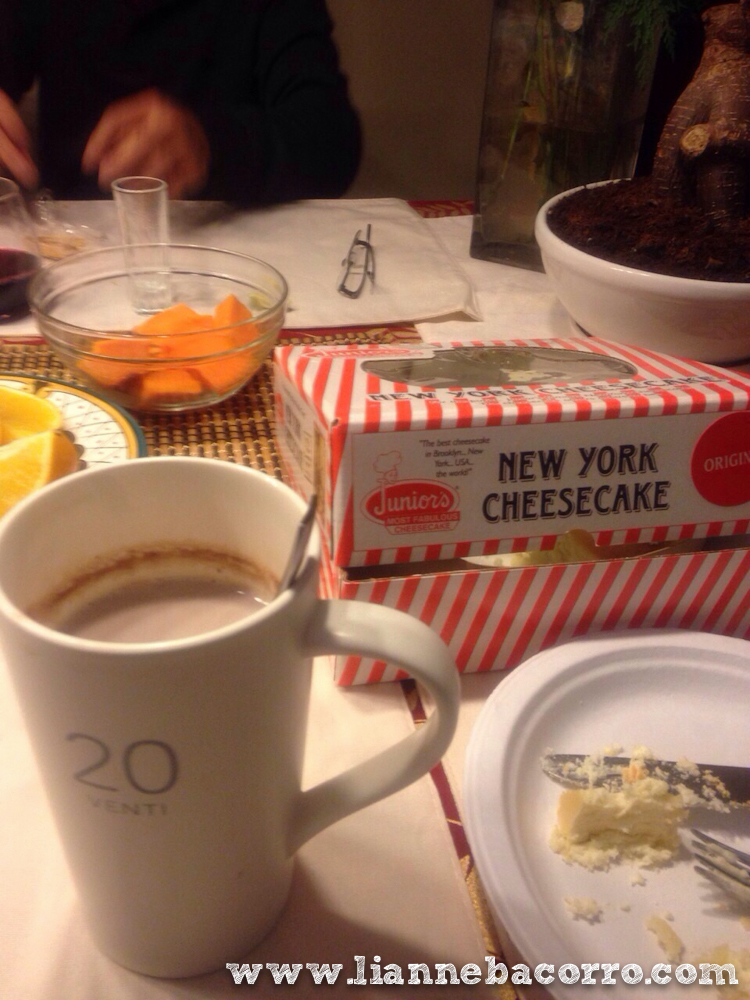 The next day, I accompanied my brother in his daily 30-minute walk. Suddenly I felt ashamed of my inactive lifestyle back home. Hehe. I was panting like a dog afterwards. And looked like an eskimo during: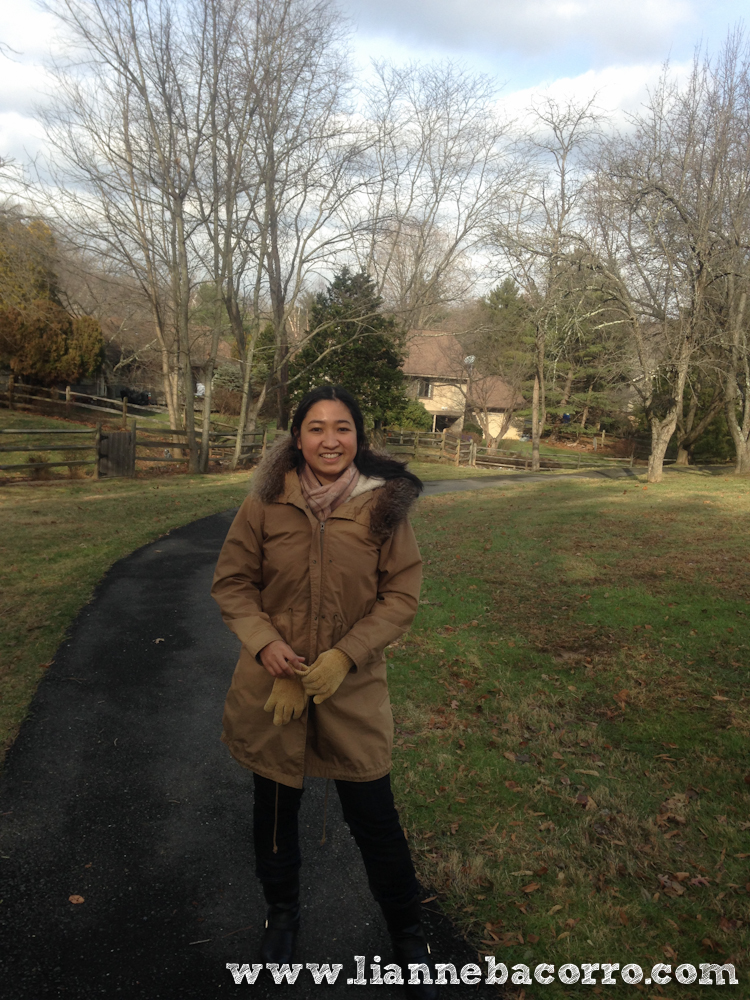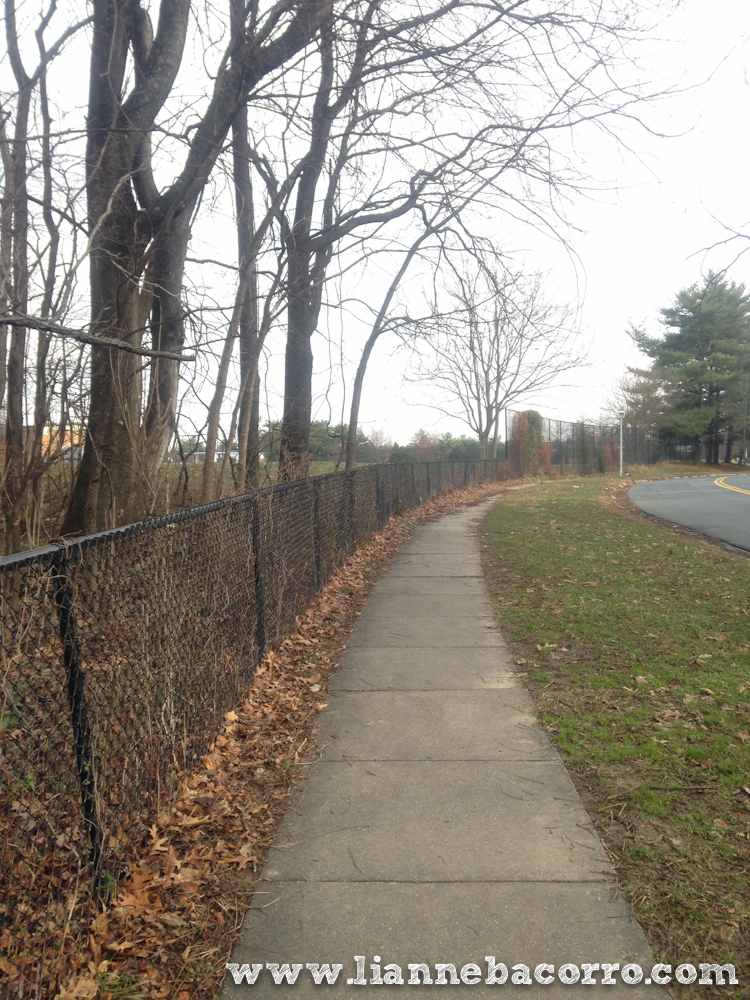 And looked like Pocahontas, winter version, much later. Hehe
On Christmas eve, there was a flurry of snow. My sister-in-law excitedly called my attention and prompted me to go outside to experience snow. I remember "Let it Snow" was coincidentally playing in my brother's mp3 player. I went outside and my brother and I took pictures. It was all very nice. Then I heard my 15-year old nephew exclaiming that "it wasn't even snow". I could see him rolling his eyes meters away. LOL
Inside my temporary bedroom (my 10-year old Nephew, Toby's room):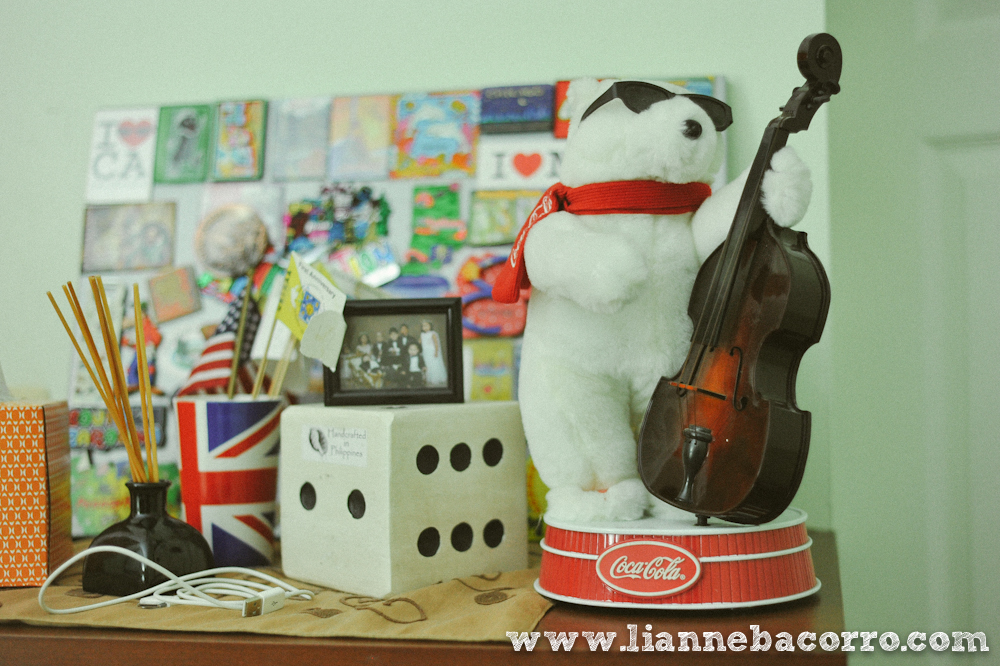 I remember my brother barged in the room in the middle of my first night in MD to check if I was cold (or alive). My parents repeatedly sent them warnings right before I left, saying that I might not be able to take the weather since I've been sick – presumably due to change in Manila weather – several times last December. Thank God I was able to survive the weather, and not once did I get sick during my stay.
More decor at home: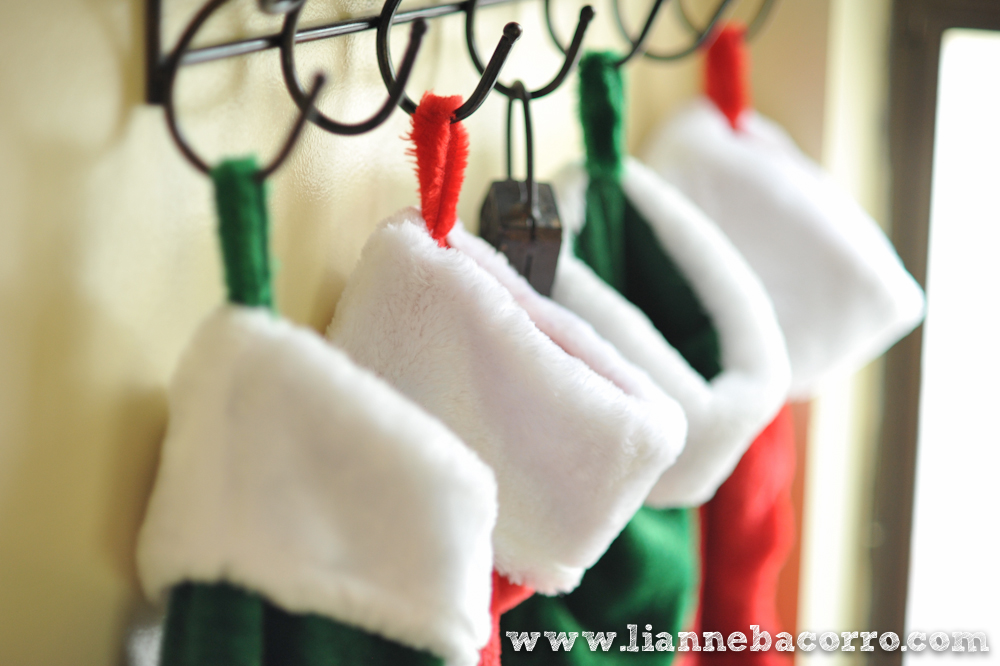 The fireplace: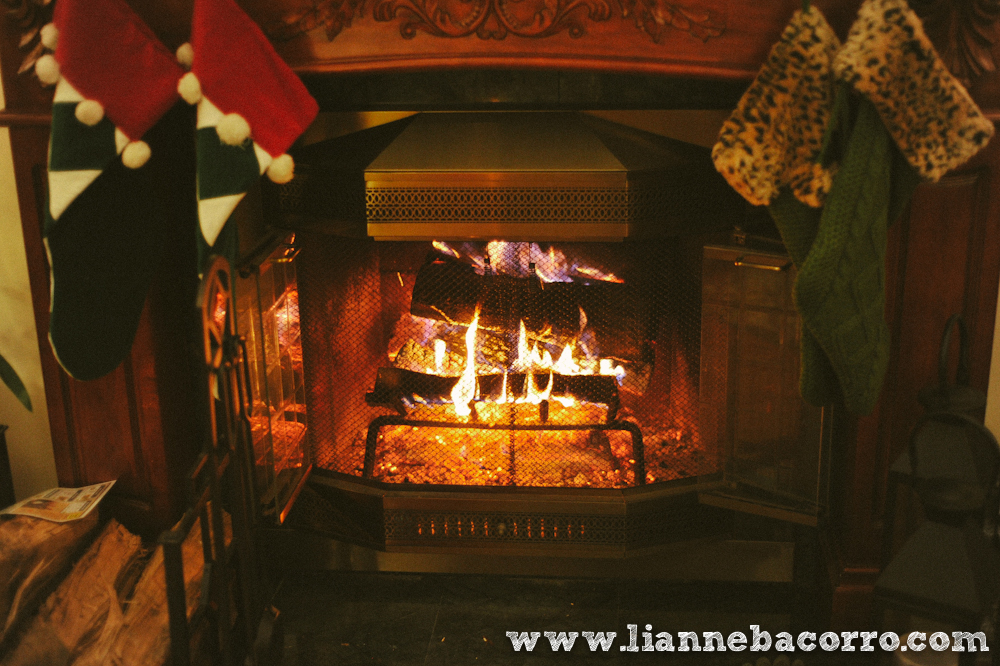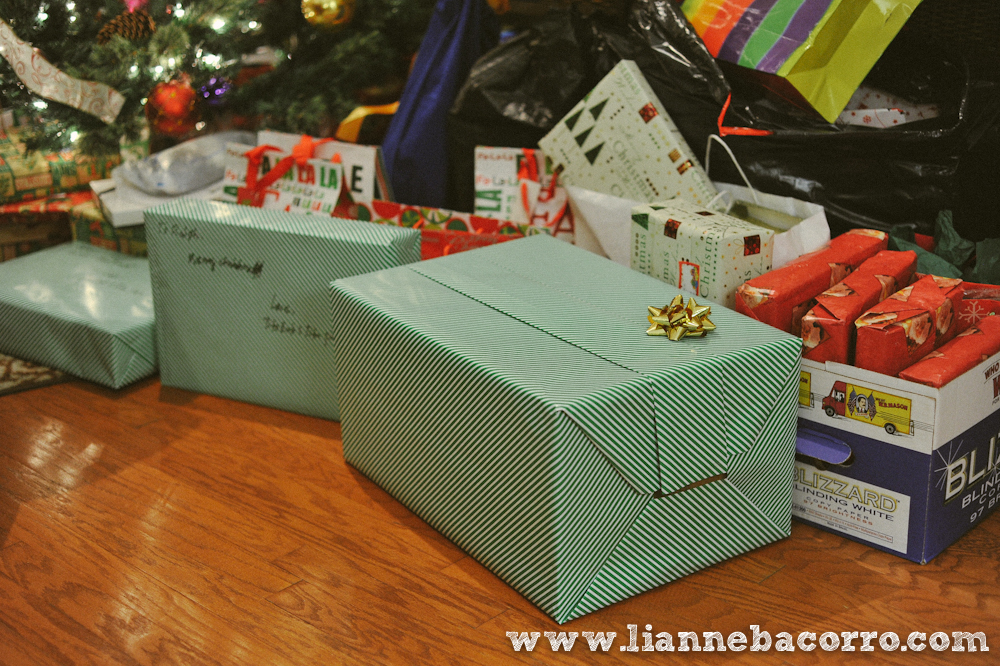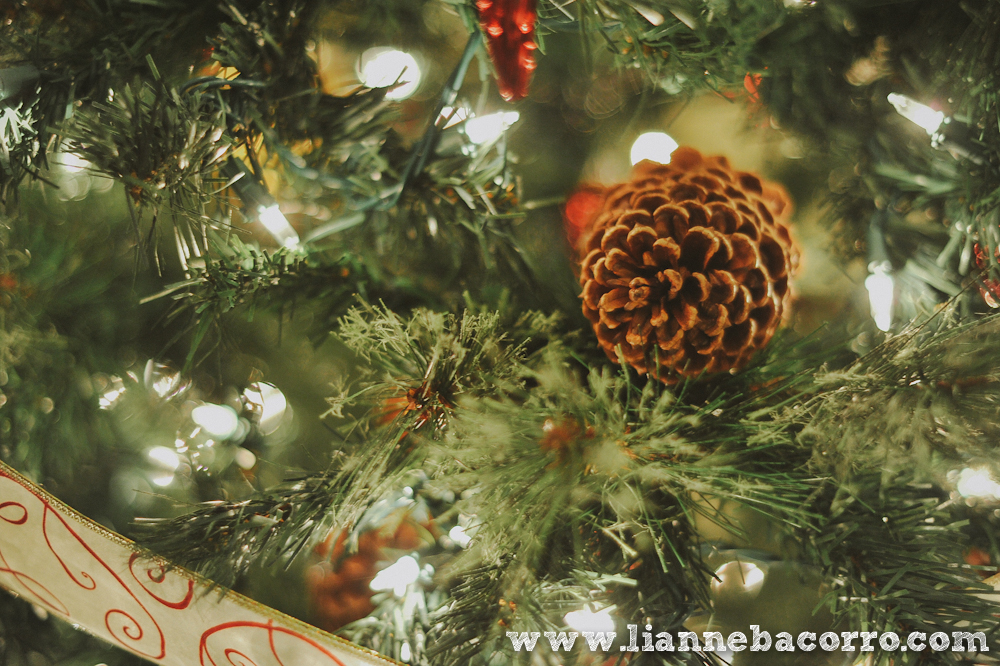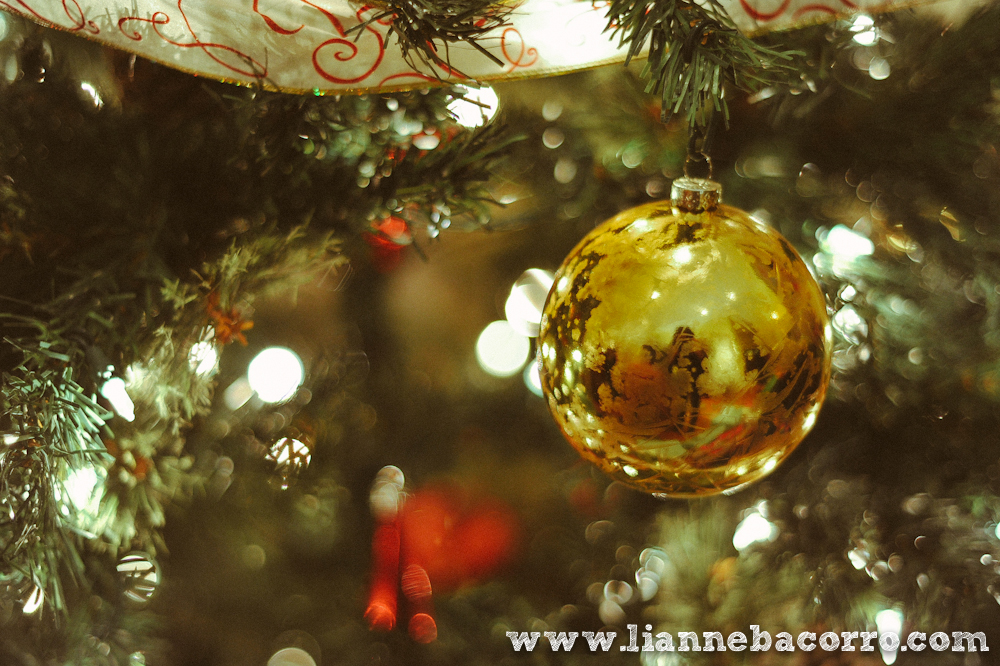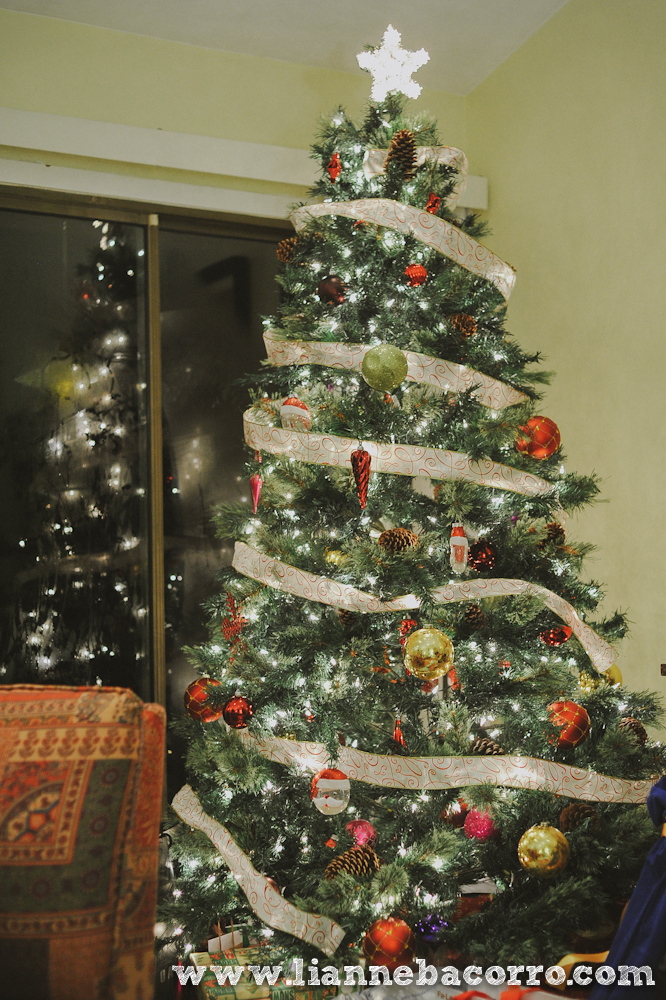 Cupcakes forming a Christmas tree, on a Christmas-themed tablecloth: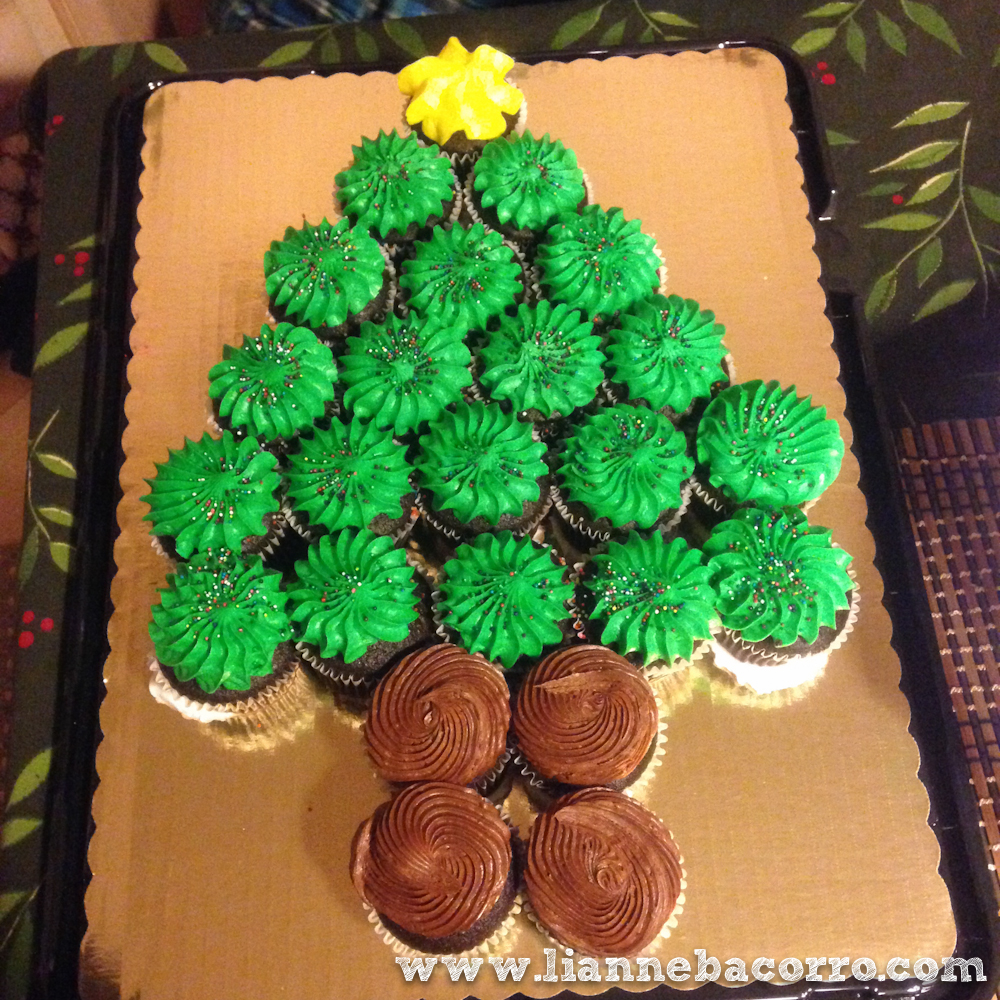 On the 24th, we also attended service in my brother and sister-in-law's church, which instantly made me feel at home since it reminds me of CCF a lot:
My sister-in-law's big family celebrated Christmas with us. After dinner, the kids started opening gifts: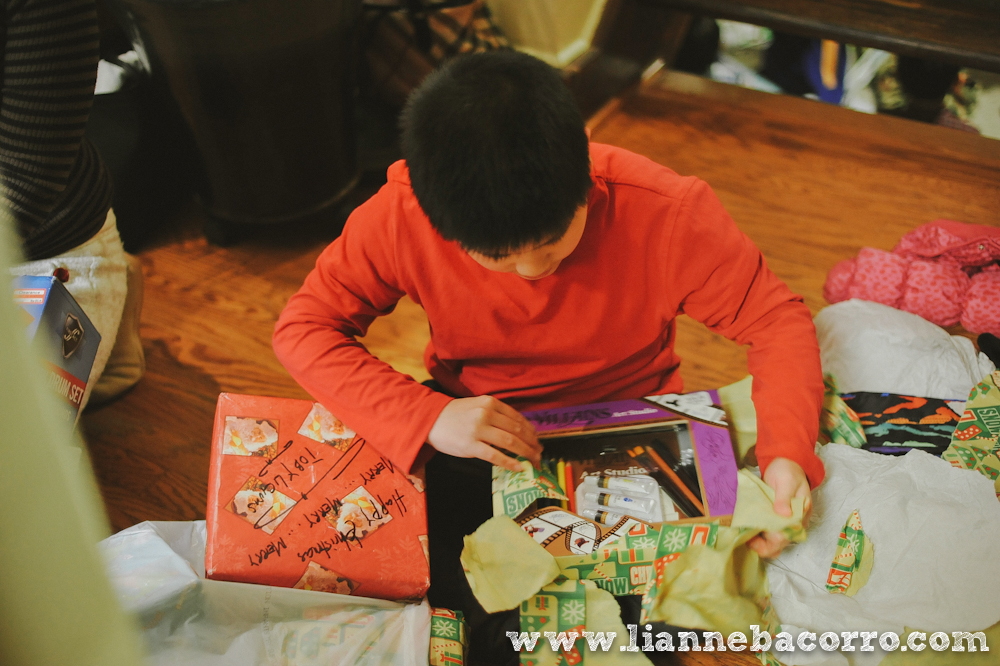 Nayla's the youngest among the kids and the most excited in the house:
Me: "What's that?"
Nayla: "I don't know!"
The important thing is, she's happy 🙂
And look, One Direction was such a hit among the little ladies: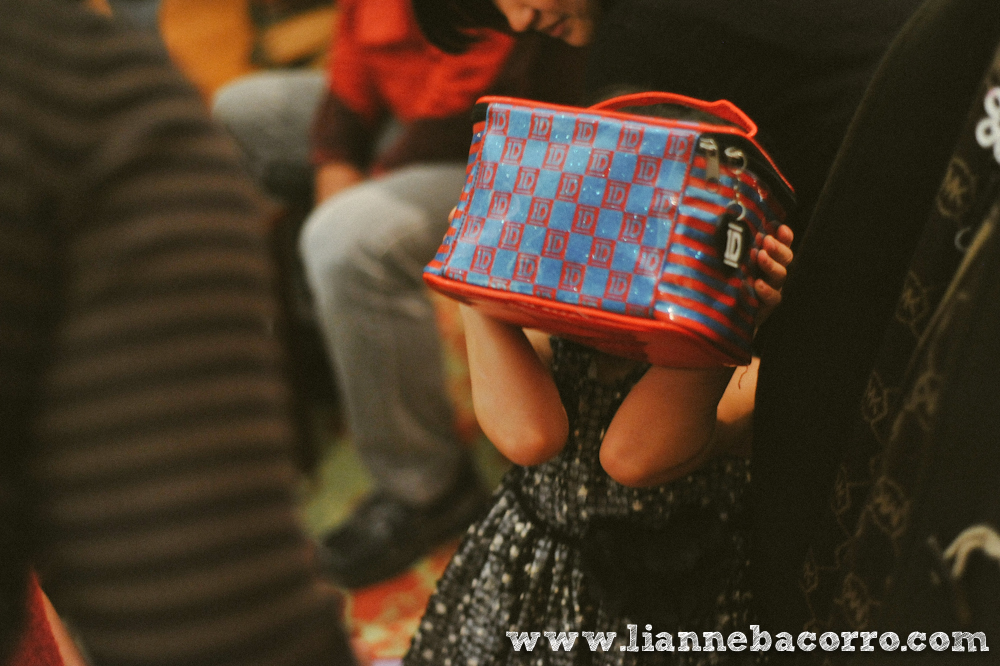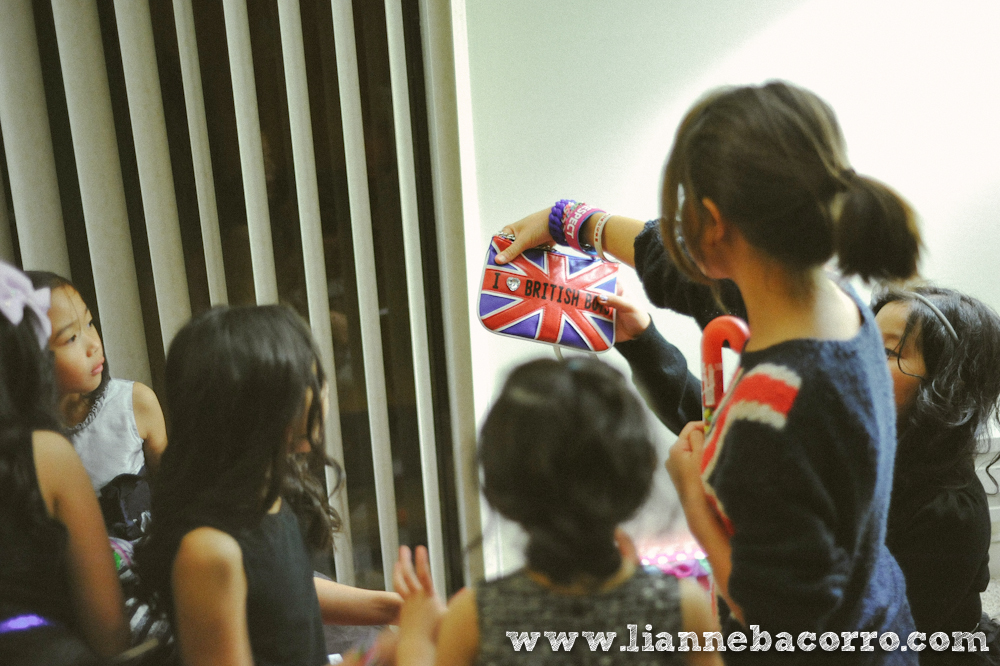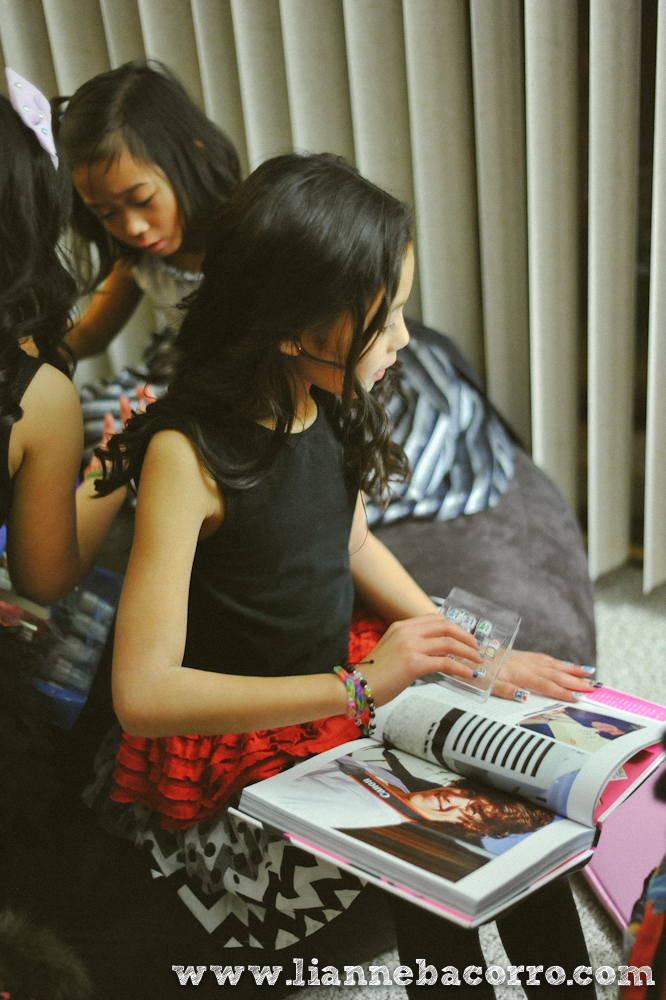 Sofi, my roommate for two days: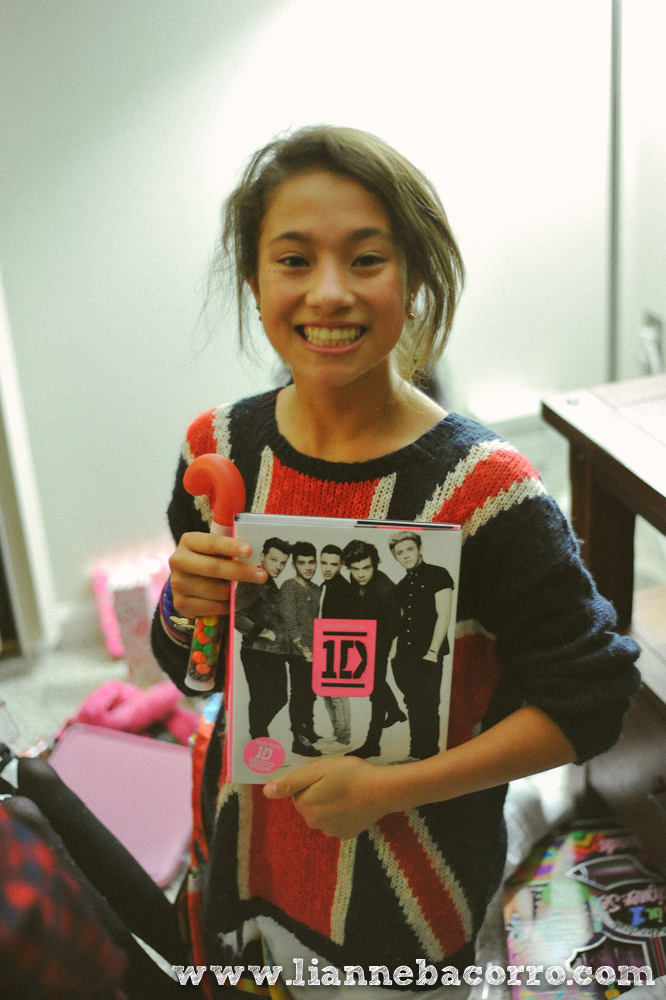 These were taken in my sister's house in Ohio. I flew in to Ohio over the weekend after Christmas: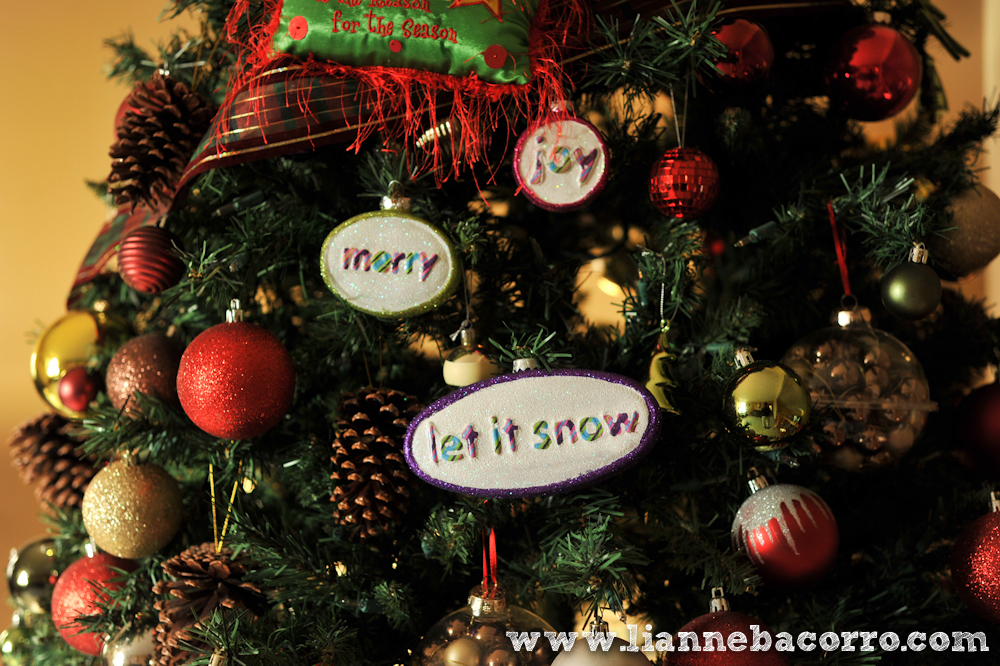 During my short vacation, I took a lot of photos, even of the most mundane things. My niece, Sophia, found it amusing that I was taking photos (and videos) of everything – the snow engulfed trees, my boots in the snow, icicles peaking from cars in the parking lot, this Iron Man Christmas ornament priced at 50% off at Target:
By the way, I saw some cars with Christmas decor. Some had tiny wreaths; this one had a large bow: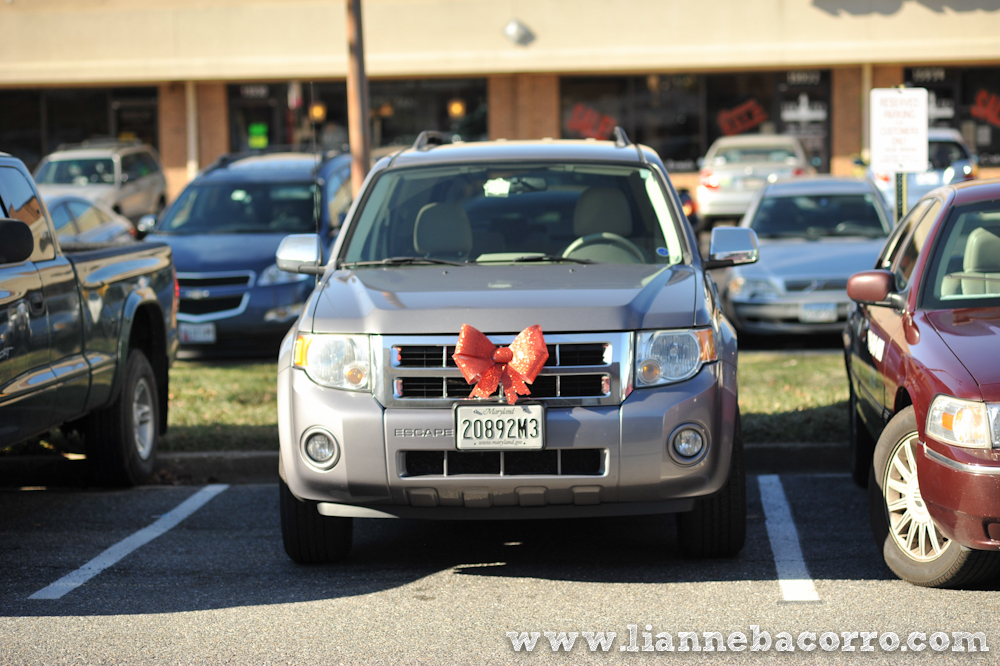 Needless to say, I really loved the whole Christmas vibe in the US. They say nothing compares to Christmas in the Philippines, and this is true. A part of me missed the Christmas rush at the malls, the traffic, the carolers, the parols, doing last-minute shopping and having lunch/dinner with the folks. But there are a lot of things to see and experience in the U.S. also during the holidays. Like post-holiday sales. Hehe. Anyway, I don't think I wouldn't have such a grand time if I wasn't surrounded by family, friends, abundant food (and lots of Filipinos ;)). Thank you to my brother and sister and their families for allowing me to become a freeloader for two weeks :)) And I thank the Lord for allowing this to happen, for giving me a great start to this year, which I really needed. 🙂