A Watercolor Lettering Crafternoon with Alessa Lanot
When your intended break from the corporate world (in my case, photography) is beginning to feel like.. well, real work, you tend to find other hobbies to allow you to destress and give you room to simply relax and be creative, minus the pressure. Recently, I came across an article entitled, "The Science of Side Projects: How Creative Hobbies Improve Our Performance at Everything" (thanks for posting the link, Lisa) where it was explained that engaging in a creative hobby can make you happier, healthier and more productive. The author defined a side project as a "labor of love" that is low-risk and low-pressure. While I still do photography for fun and for the sheer love of it, it has long ago ceased to be low-pressure. For my sanity and to hopefully improve my performance in my corporate work and photography, a new side project is in order. Last month, I joined two fun, artsy workshops – a watercolor lettering class under Alessa Lanot of Life After Breakfast and a rubber stamp and silkscreen printing workshop organized by Craft MNL at the 10a Alabama Arts and Crafts Fair, which I will write about in my next entry.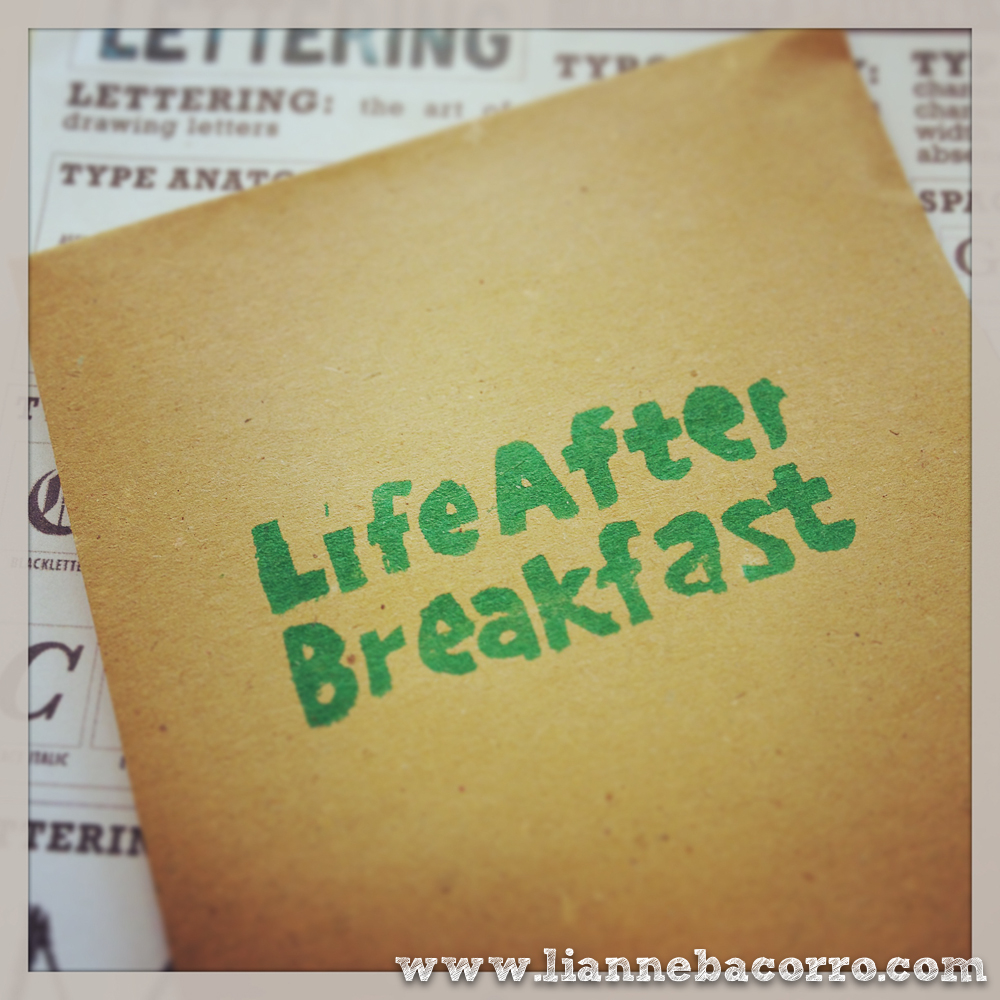 I've been silently following Alessa's blog since I was in law school (and I graduated from law school back in 2007. Yes, it's been that long). I believe that was before she opened up crafternoons/art workshops to the public. I never got to join her workshops due to time constraints and because I think I can learn the classes on my own (or so I thought). I've been thinking of doing watercolor again lately when I read that she's opening up a watercolor lettering class. When I saw that the class was fully booked, I signed up anyway as a waitlister, not expecting to get a slot. I forgot all about it already until I received an e-mail from Alessa a few days before the workshop saying that they can accommodate me. I took it as a sign to jumpstart a different creative hobby so I immediately deposited the payment. 😛
Chances are I would be the oldest and least creative in class so I prepared myself for an awkward class introduction. Good thing my classmate, Aisha, who was seated right across broke the ice and started talking with me and the rest of the girls in my table. I immediately felt comfortable when I found out we have the same civil status and we're within the same age range. Haha. Alessa then asked everyone to introduce herself to the group. I shared that I was a photographer who specializes in kids' portraits/events and also a lawyer. I learned from Alessa then that Richelle, a law school blockmate (who, should I emphasize, has the same civil status and is within the same age range), signed up for the class. She arrived 30 mins. after we started. Haha. The other girls (yes, we were all girls) all had interesting, mostly creative jobs that made me question once again my life decisions.
Alessa first gave a short lecture on the basics of lettering and typography.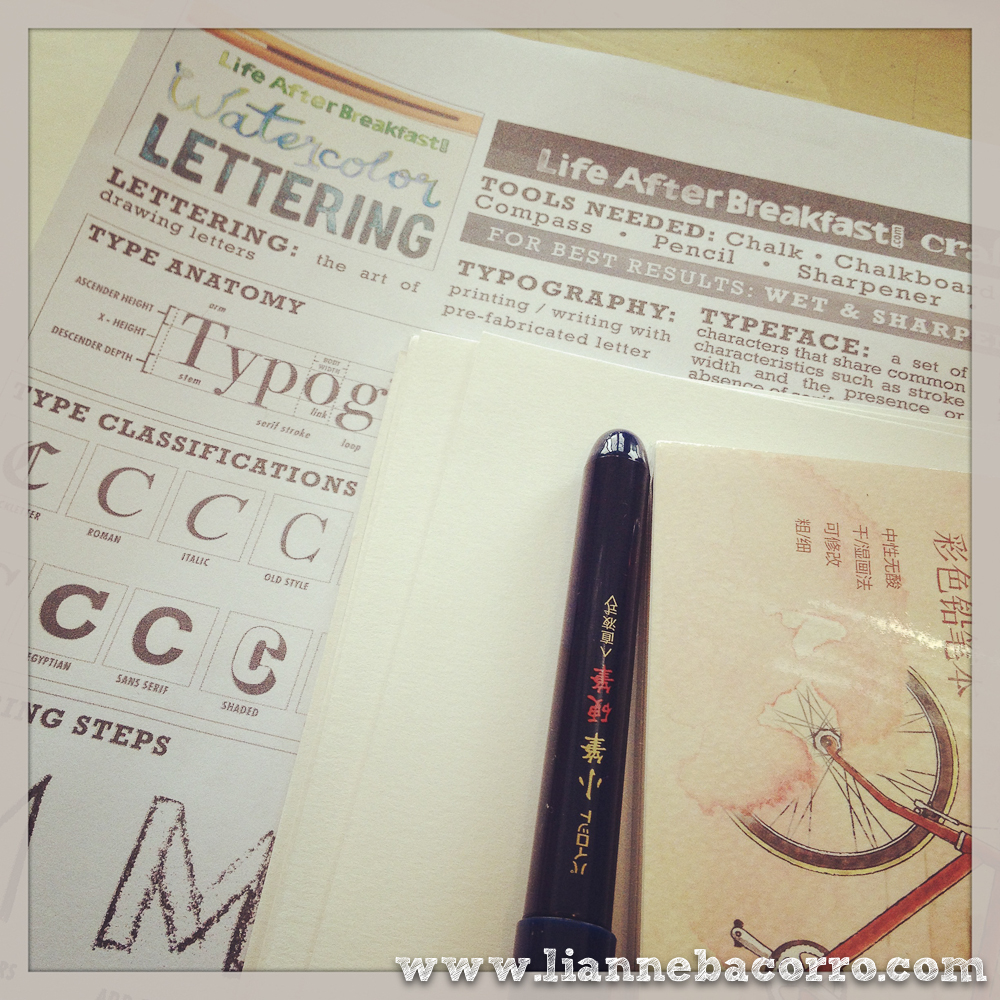 She shared some of her work with the group. Impressive: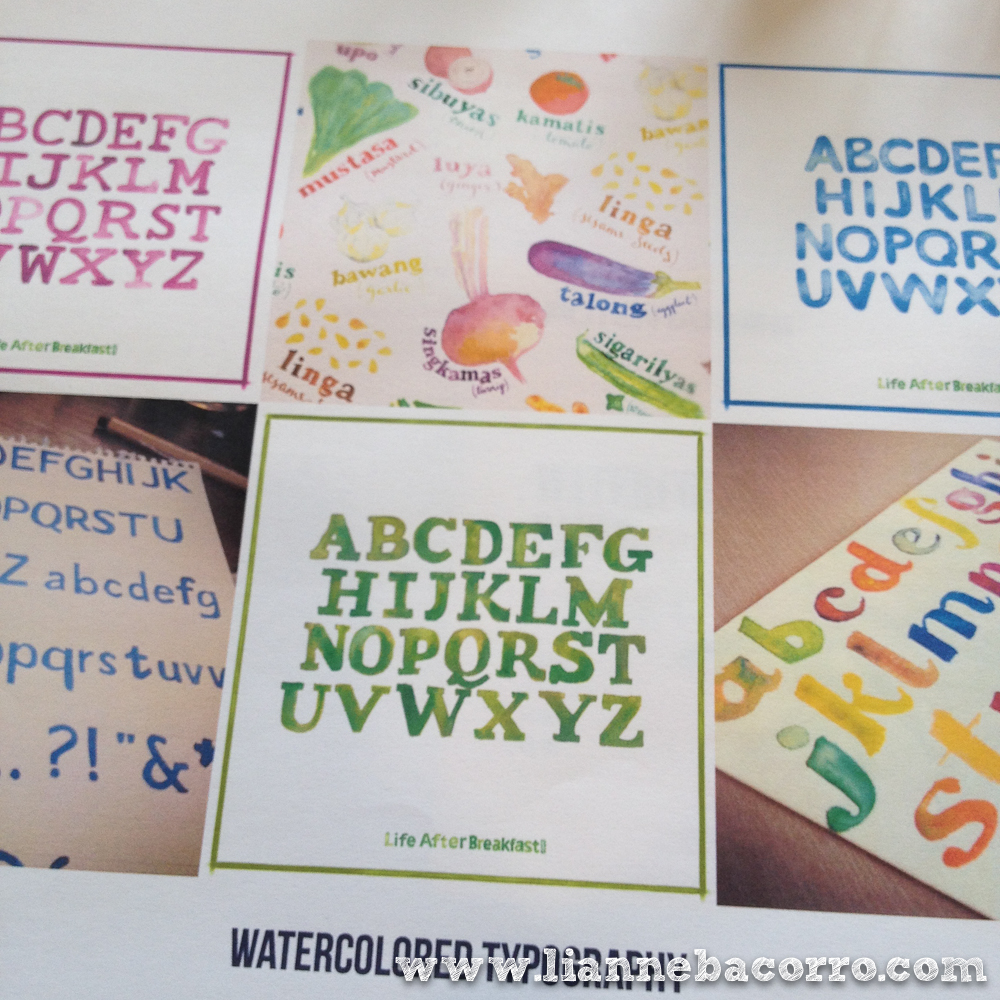 Then we started to do lettering ourselves. We were asked to paint our initials first using Dr. Ph. Martin's watercolor supplied by Craft Carrot. It looks so pro. Haha.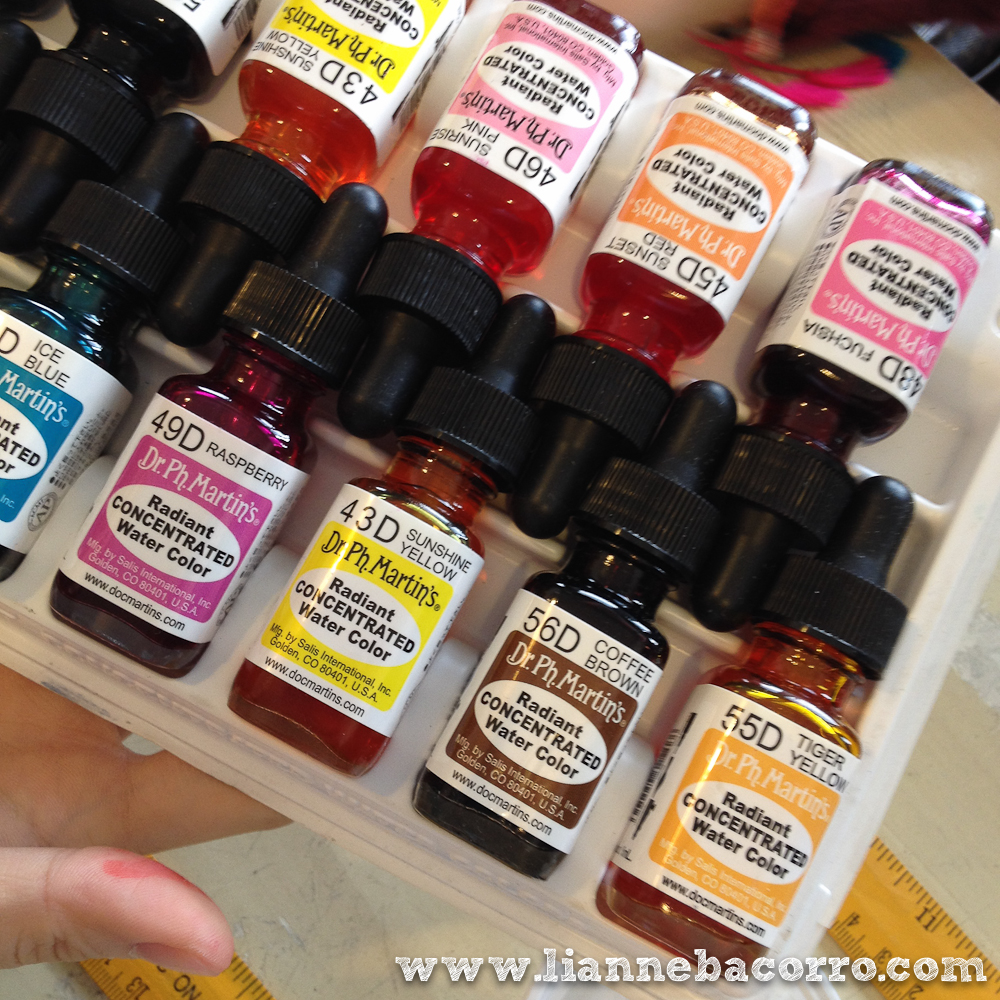 These were the colors given to us that came with the kit:
We were also asked to do the entire alphabet. Our lettering had to follow a certain style/theme (I was tasked to do "flowers", but finishing the entire alphabet was challenging enough for me 😛 We had our work tacked on the wall and we voted which one we thought was best. Richelle's work got the most likes 😀 Didn't get to take a photo though because I was too busy then cramming the last piece we had to do.
Our last task was to paint our favorite quote. I picked out Proverbs 4:23, one of my favorite verses (my other favorite verses are too long. Haha) If Casper the friendly ghost were a font, this would probably be it =))
Richelle's work:
Another classmate's work:
Though the workshop lasted only a few hours, the fee was worth it. The kit included everything one would need to start basic lettering (paint, pen brushes, a small watercolor pad) and really good food from Pipino. I wished then that I took this or a similar workshop sooner. While I've learned a lot from books, sites and online videos like Skillshare, nothing beats having your instructor in the same room with you. At least there was someone to affirm (and pressure hehe) me as I work; and I was able to easily get answers for any questions I might have. It's also great to have a community of creative people around you who are willing to learn and who would likewise pressure you, in a good way, to do better.
The supplier for the art materials, Craft Carrot, sold everything watercolor-related at the workshop:
This is Richelle and me. Look how happy we are when not doing law-related things. Harhar
With Alessa this time:
  Some of my younger and much more talented seatmates: 
   Pipino, I shall be back:
Thanks Alessa for hosting this workshop! Hooray for creative side projects 😀